Jump to Recipe
Hello, fellow food enthusiasts! Today, we're diving into the heartwarming world of Mexican cuisine. I'm here to guide you on a delightful culinary journey where we'll learn how to make Sopa de Fideo with Knorr.
Trust me, this is recipe will tantalize your taste buds and warm your soul. So, shall we begin?
Please note, for this recipe to be vegan, you need to use Knorr vegetable bouillon cubes instead of Knorr chicken bouillon cube, which contains chicken-derived ingredients.
Knorr offers vegetable bouillon cubes, which is a great alternative to maintain the flavor profile while keeping the recipe vegan.
You might also want to check the Fideo noodles package to ensure they are vegan as well.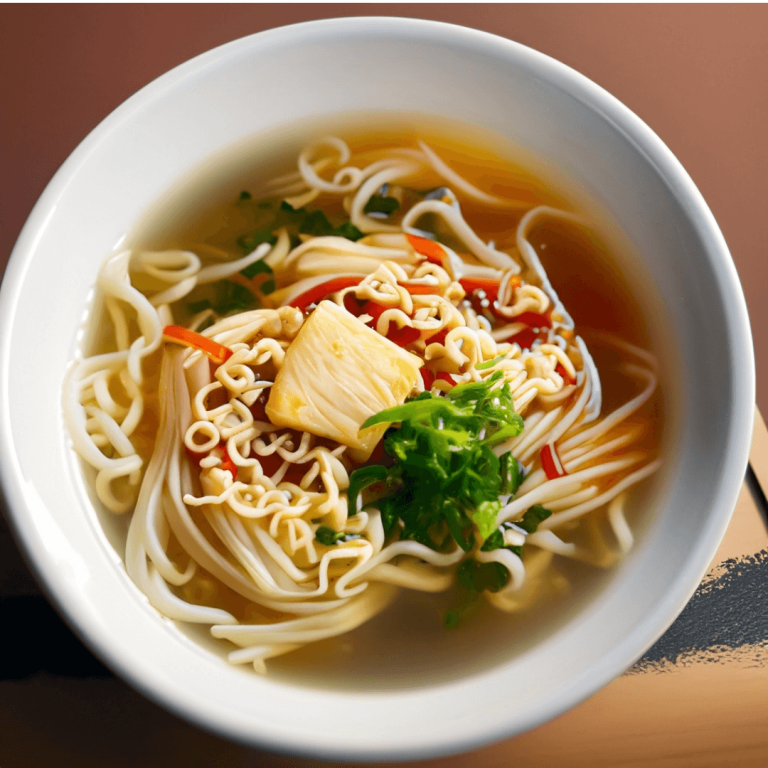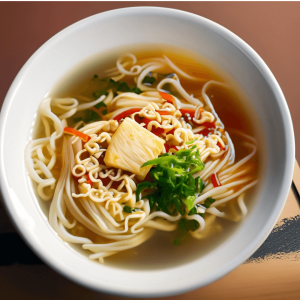 Sopa de Fideo With Knorr
Before we start, let's gather all the necessary ingredients. This recipe is not only delicious but also quite simple to prepare. Here's what you'll need:
Ingredients
200

g

Fideo noodles

1

Knorr vegetable bouillon cube

400

g

diced tomatoes

1

medium onion, finely chopped

2

garlic cloves, minced

4

cups

cups of water

2

tbsp

vegetable oil

1

Fresh coriander leaves for garnish

1

lime, cut into wedges
Instructions
Heat the oil in a large pot over medium heat. Add the chopped onions and minced garlic, stirring them until they become translucent and fragrant. Isn't it amazing how these simple ingredients can create such a heavenly aroma?

1 medium onion, finely chopped,

2 garlic cloves, minced,

2 tbsp vegetable oil

Next, add the canned diced tomatoes into the pot. Let it simmer for a few minutes to blend the flavors beautifully. Can you feel the excitement building up as we add each layer of flavor?

Now, it's time to add the star of the show, the Fideo noodles. Stir them in and let them toast slightly, absorbing the wonderful flavors from the pot. It's like a little party happening right there in your kitchen!

Here comes the secret ingredient – the Knorr vegetable bouillon cube. Crumble it into the pot and stir well to ensure it's evenly distributed. This little cube packs a punch, doesn't it?

1 Knorr vegetable bouillon cube

Pour in the water, bring the mixture to a boil, then reduce the heat and let it simmer for about 10-15 minutes. This is where the magic happens, as all the ingredients come together to create a symphony of flavors.

As we approach the finale, garnish your soup with fresh coriander leaves and a squeeze of lime. It adds a refreshing touch, don't you think?

1 Fresh coriander leaves for garnish,

1 lime, cut into wedges
Notes
Serve this delightful soup hot, perhaps with a side of warm tortillas or a slice of crusty bread. It's a comforting meal that feels like a warm hug, wouldn't you agree?
Final Thoughts
As we come to the end of our culinary journey, I hope you've enjoyed this flavorful adventure as much as I have.
This Sopa de Fideo recipe, infused with the rich flavors from Knorr, is not just a dish, but an experience, a celebration of vibrant Mexican cuisine.
So, what are you waiting for? Dive in and enjoy this bowl of comfort and joy!