I've found a way to make vegan protein packed patties, which are succulent, hold together strongly and are so tasty, I didn't even want any sauce to go with them so that their flavour will dominate as I eat them. These are gluten free and are a great way to consume plant protein.
Ingredients:
1 large zucchini
3 peeled carrots
1 onion
1/2 cup dried quinoa (I used a mix of tri-colour quinoa but any kind will do; white, red or black)
11/2 cups of water
1 bunch of fresh dill
1 bunch of fresh mint leaves
1/2 cup of chickpea flour
1 Tbs nutritional yeast (I use Bob's Red Mill Large Flake Yeast)
1 Tbs raw unhulled tahini
1 tsp peanut butter
1 tsp salt
Yields: 11-12 patties (4 servings)
Instructions
1. Cook the quinoa with 11/2 cups of water. Bring water to a boil and then continue cooking on a low heat with the lid on the pot until the water absorbs into the quinoa and the quinoa is soft and its little tail is visible. Leave to cool off.
2. Preheat the oven to 3500F / 1800C.
3. Grate the zucchini, onion and carrots either in a manual grater or a food processor if you have one.
4. Squeeze out as much liquid as you can from the grated vegetables using your palms in a pressing motion. Excess liquid, especially from the zucchini can ruin the consistency of the patties.
5. For those who have a food processor: Cut the bottom part of the stalk off the mint and the dill and then chop them up into large pieces and place in the food processor together with the quinoa, peanut butter, tahini, nutritional yeast and salt. Mix it in pulses until they are chopped up finely but stop before it becomes a smooth mixture.
For those who don't have a food processor: Cut the bottom part of the stalk off the mint and the dill and then chop them up finely. Mush the quinoa either by pressing down on it with a fork or by squeezing it tightly with your hand and fingers or using a potato masher, whichever you prefer. Mix in the peanut butter, tahini, nutritional yeast and salt too.
If you want to purchase a food processor, here's what to look for when buying one [2023 Buying Guide]
---
More Vegan Recipes:
---
6. Add the contents of section 5 to the grated vegetables together with 1/2 cup chickpea flour and mix it all together.
7. Line an oven tray with parchment paper and roll the mixture into firm balls and flatten them into a patty shape. (I freeze some of the patties before the baking so I can just pull out patties and bake them on days that I have no time for long food preparation).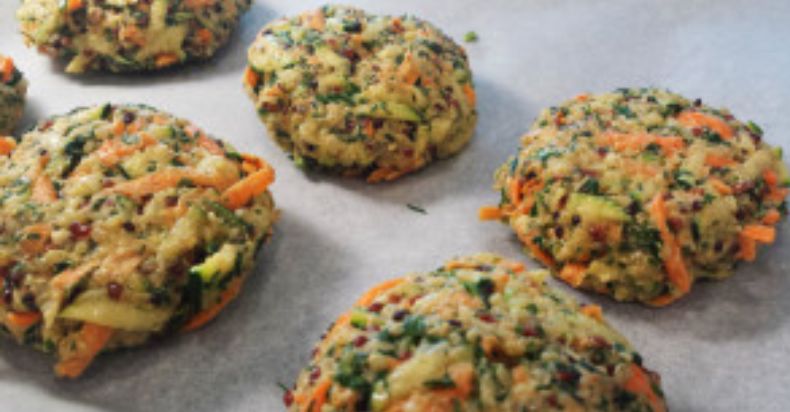 8. Bake for around 25 minutes. They should still be soft on the inside. If you like it a little drier and firmer, bake for a little longer.
I suggest letting them cool off a little before moving them. Cooling off helps them firm up.
Tip for vegan patties: If you're still intent on cooking them in sauce, the way to avoid them breaking up is by cooking the sauce and adding in the oven-baked patties only a minute or two before the cooking is done or even just pouring the sauce over them once it's already made.
Serving suggestion: Squeeze a lemon and drizzle some homemade tahini sauce over them, all on top of a fresh vegetable and lettuce salad.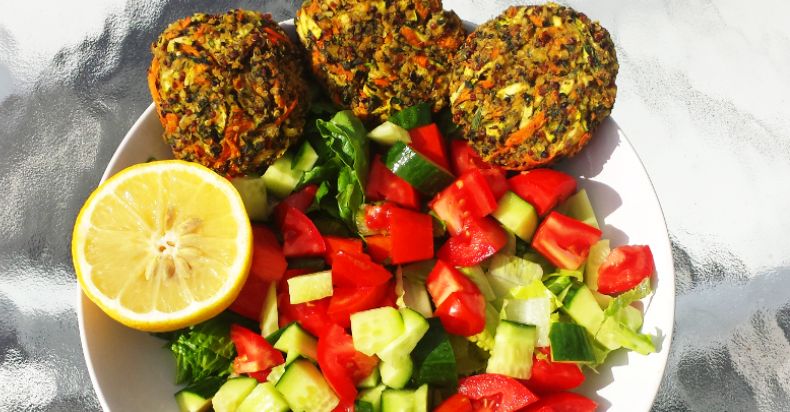 I highly recommend using tahini from raw unhulled-whole sesame seeds because its nutritional value is higher, it contains a lot more calcium than the regular raw tahini and it's a lot tastier. These 2 are amongst my favourite tahinis: Achva , Baracke . They are both excellent!
If you're adventurous and have a power blender, you can attempt making it yourself. Unhulled sesame seeds can be found in some health shops or online. The flavour can be a little bitter and it can take time getting used to but the health benefits are worth it.