What ingredients are in Otter Pops? Are Otter Pops considered vegan? These are some questions we keep getting from time to time. Now, we have got the complete detailed explanations and answers for everyone.
In this post, we're going to answer your questions whether Otter Pops are vegan friendly, or/and gluten free.
First, let's discuss the ingredients list.
Otter Pops Ingredients:
Otter Pops Original Ice Bars are made with :
WATER.
HIGH FRUCTOSE CORN SYRUP.
CONTAINS 2% OR LESS OF THE FOLLOWING: APPLE AND PEAR JUICE FROM CONCENTRATE.
CITRIC ACID.
NATURAL AND ARTIFICIAL FLAVORS.
SODIUM BENZOATE AND POTASSIUM SORBATE (PRESERVATIVES).
RED 40, YELLOW 5, YELLOW 6 and BLUE 1.
The Otter Pops Original Ice Bars contain fruit, vegetable and artificial flavors and other plant based ingredients.
Now, let's go back to our main question "are Otter Pops vegan?".
Are Otter Pops Vegan?
So, are Otter Pops vegan? The answer is a big YES. Otter Pops are vegan friendly. They only contain plant based ingredients.
People may be confused about some questionable ingredients like Red 40, Yellow 5 & 6 and Blue 1, but these ingredients are made synthetically from petroleum and not from pork or any other animal product.
So, you can enjoy these ice bars, and if you want to order them online, you can check the availability here.(click here).
Are Otter Pops Gluten Free?
Peope who follow a gluten-free diet must avoid foods containing gluten, which is the protein found mainly in wheat, barley, rye and triticale.
According to the ingredient list above, Otter Pops do not contain gluten and therefore, they are gluten free.
Please note that some prodcut ingredients may change, therefore, it is important to check the ingredients listing on the actual product before purchasing.
Otter Pops Nutrition Facts?
According to their website, the Otter Pops nutrition facts for 6 pops(170g) are: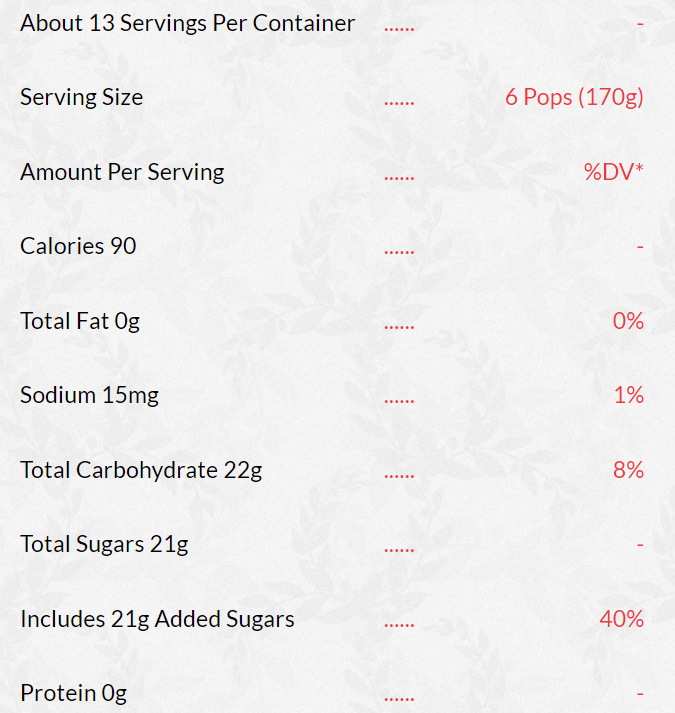 ---
RECENTS ARTICLES :
---
Summary:
The Otter Pops Ice Bars are considered vegan. They are free from animal derived ingredients, which makes them suitable for both vegans and vegetarians.
Disclaimer:
Please note that we always strive to make sure the information about the products or foods is always as accurate as possible. However, because products or foods are regularly improved, the product information, ingredients, nutritional guides and dietary or allergy advice may occasionally change.
As a result, we recommend that you always read the label carefully before using or consuming any products or foods.