What are corn nuts made of ? Are Corn Nuts Vegan Friendly? Let's find out. In this article we're going to uncover the corn nuts ingredients and see if they are suitable for vegans and vegetarians.
What Are Corn Nuts?
Also known as toasted corn, quico, or Cracker, Corn Nuts are a snack food made of roasted or deep-fried corn kernels. It is referred to as cancha in Peru and chulpi in Ecuador.
Corn Nuts are prepared by soaking whole corn kernels in water for three days, then deep-frying them in oil until they are hard and brittle.
Corn Nuts aren't really nuts at all. They are actually corn kernels deep-fried in oil.
But are they vegan? Let's discuss the ingredients.
Corn Nuts Ingredients:
The original Corn Nuts is made with 3 simple ingredients:
They may contain other ingredients such as:
Contains Less than 2% Maltodextrin, Monosodium Glutamate, Corn Syrup Solids, Tomato Powder, Onion Powder, Spices, Sugar, Garlic Powder, Sodium Diacetate, Malic Acid, Lactic Acid, Sodium Citrate, Citric Acid, Turmeric Extract (for Color), Disodium Inosinate and Disodium Guanylate, Vinegar Powder, Natural and Artificial Flavor, Red 40.
Now that we know the ingredients, let's go back to our main question "are Corn Nuts vegan?".
Are Corn Nuts Vegan?
Yes. Corn Nuts are vegan, as they are free from animal derived ingredients.
They are made with roasted corn kernels and do not contain animal derived products, which makes them suitable for both vegans and vegetarians.
Please not that we always strive to make sure the information about the products is always as accurate as possible.
However, because products are regularly improved, the product information, ingredients, nutritional guides and dietary or allergy advice may occasionally change.
As a result, we recommend that you always read the label carefully before using or consuming any products. 

Are Ranch Corn Nuts Vegan?
Yes, Ranch corn nuts are vegan friendly, as they are made with plant based ingredients.
Are Corn Nuts Brand Vegan?
Most flavors of corn nuts brand are vegan as they only contain plant based ingredients.
Per Peta, Corn Nuts (Ranch, BBQ, Original, and Chile Picante) are vegan snacks.[1]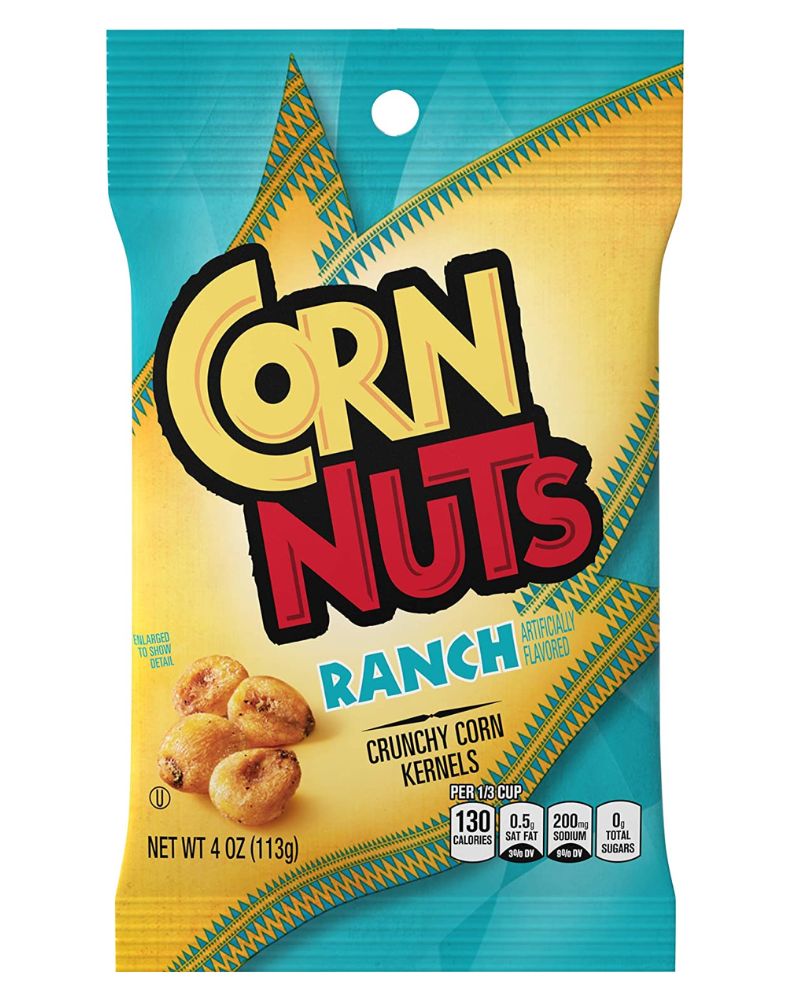 ---
Related Posts:
---
Are Corn Nuts Fried?
Yes. Corn Nuts are fried.
In fact, deep-frying is the process to make Corn Nuts after soaking corn kernels in water.
Are Corn Nuts Gluten Free?
Corn Nuts are considered gluten-free, as there are no gluten ingredients added to any of the flavors of this snack food.
Naturally, corn nuts are gluten-free. The only ingredient in natural corn nuts is corn and corn is completely gluten-free!
Are Corn Nuts Good for Weight Loss?
The Corn nuts can be healthy if you eat them in moderation. They contain some heart-healthy fat, protein and fiber.
Corn is rich in fiber and plant compounds that may aid digestive and eye health. Yet, it's high in starch, can spike blood sugar and may prevent weight loss when consumed in excess.
They are also a low-calorie choice compared to many types of chips and crackers.
Are Corn Nuts Good for Bodybuilding?
Yes, corn is good for bodybuilding because it's considered a 'healthy carb', in addition to being easily digestible, good for many different diet types, and can be easily taken on-the-go.
Please not that although Corn Nuts have several health benefits, they can be high in sodium and fat.
Final Thoughts:
Corn Nuts are a vegan friendly snack, as they are free from ingredients derived from animals.