Are Quavers Vegan? Let's find out. In this article, we're going to dig into Quavers ingredients and get you the answers you need and see if they are suitable for vegans.
Quavers
Launched in the UK in 1968, Quavers are a deep-fried potato-based British snack food.
Since 1997 they have been produced by Walkers. The name comes from the musical note, quaver.[1]
Quavers are a classic go-to, whether it be a packed lunch or just snacking at home.
Quavers are made with these ingredients:
Potato Starch, Sunflower Oil.
Cheese Flavour [Whey Powder (from Milk).
Flavouring (contains Milk).
Flavour Enhancers (Monosodium Glutamate, Disodium 5'Ribonucleotide).
Milk Powder, Cheese Powder (from Milk).
Potassium Chloride, Garlic Powder.
Acid (Lactic Acid), Colour (Paprika Extract).
Rice Flour, Soya Flour, Salt, Yeast.
Onion Powder (Malt Flour from Barley).
Pepper, Wheatflour (contains Calcium, Iron, Niacin, Thiamin).
Colour (Annatto)
These potato-based snack Contains : Milk, Soya, Barley and Wheat. They are also made in a factory that also handles: Gluten, Celery and Mustard.[2]
Are Quavers Vegan?
Are they vegan? Are Quavers vegan? The answer is NO. Quavers are not vegan. They contain animal derived products( such as cheese flavor, flavoring, milk powder, cheese powder), which makes them unsuitable for vegans.
But if you're looking for some tasty plant-based alternatives to Quavers, check out what Crisps are vegan?
Are Quavers Vegetarian?
According to their website, Walkers states that Quavers are suitable for vegetarians.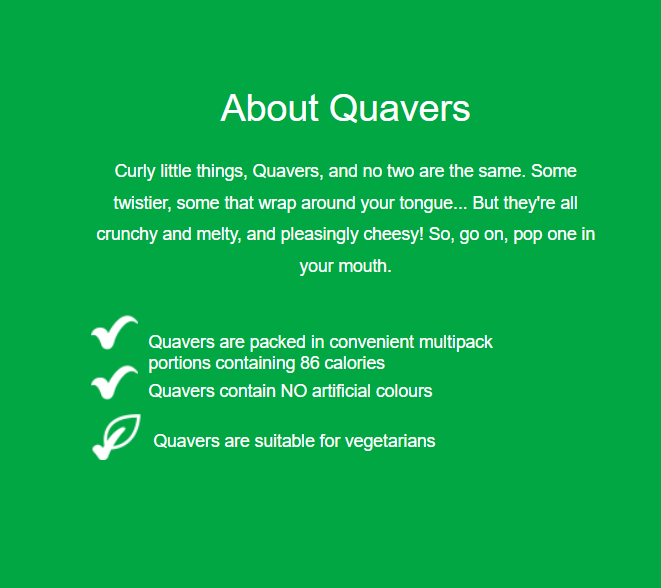 Are Quavers Gluten Free?
Unfortunately, No, Quavers contain both wheat and barely, which means they are not gluten free or safe for those with gluten sensitivity.
We always recommend people to double-check the product packaging before buying.
---
Related Posts:
---
Final Thoughts
Because Quavers contain cheese flavor, flavoring, milk powder, which are all animals derived products, they are not suitable for vegans.
Maybe in the future, we hope that the Walkers company may opt for a vegan-friendly Quavers.