Is Worcestershire Sauce Vegan? I get this question quite often because the condiment is so popular and it is commonly used as a seasoning in a variety of dishes, such as marinades, soups, stews, and sauces.
So, in today's post, we are going to dig into the Worcestershire sauce ingredients and get you the answers you need to determine if this sauce is suitable for vegans.
But, first, what is Worcestershire sauce anyway?
What Is Worcestershire Sauce?
Worcestershire sauce, also known as Worcester sauce, is a fermented savory sauce similar to fish sauce and soy sauce. It was first discovered in Worcester in Worcestershire, England in the 1830s, thus explaining where it got its name.
Worcestershire sauce is a versatile ingredient that can be used in pretty much anything. Including stocks, broths, marinades, salads and soups.
The sauce is usually made by mixing a variety of ingredients, including vinegar, molasses, sugar, anchovies, tamarind, onions, garlic, and a blend of spices.
The finished sauce is typically dark brown in color and has a strong, savory flavor that is slightly sweet and tangy.
So, is it vegan friendly? To answer the question, let's check the ingredient list.
Worcestershire Sauce Ingredients:
The ingredients in Lea & Perrins and most Worcestershire Sauces are as follows:
Malt Vinegar (from Barley).
Spirit Vinegar.
Molasses.
Sugar.
Salt.
Anchovies (Fish).
Tamarind Extract.
Onions.
Garlic.
Spice.
Flavourings
Now, let's go back to our main question "is Worcestershire sauce vegan?".
Is Worcestershire Sauce Vegan?
Unfortunately Worcestershire sauce is not vegan friendly, because it often includes anchovies and/or fish sauce.
It's a shame, because the rest of the ingredients are vegan-friendly, and liquid condiments like soy sauce and Tabasco Sauce are broadly similar, if slightly different, vegan options.
So while pescatarians can consume it, Worcestershire Sauce is not suitable for both vegans and vegetarians.
Fortunately, there are vegan Worcestershire sauce brands on the market. Keep reading to find out some Vegan Worcestershine Sauce or click here.
Or you can make your own vegan Worcestershire sauce.( here's a vegan worcestershire recipe).
Vegan Worcestershire Sauce Brands:
There are several vegan Worcestershire sauce brands available on the market. Here are a few examples:
1-Annie's Naturals Vegan Worcestershire Sauce:
It is made with a blend of apple cider vinegar, tamarind, and a variety of spices. This sauce is free from anchovies and other animal derived products, making it suitable for vegans.
Check the availability here.
2-THE WIZARDS Vegan Worcestershire Sauce:
This vegan sauce is made with organic tamarind, organic apple cider vinegar, and some organic spices.
It is certified vegan and is free from animal derived ingredients.
You can check the availability here.
3-365 by Whole Foods Market, Sauce Worcestershire Organic:
This sauce is made with these ingredients:
Organic White Vinegar.
Organic Molasses.
Filtered Water.
Organic Cane Sugar.
Salt; Organic Caramel Color.
Organic Garlic Powder.
Organic Black Pepper.
Organic Allspice.
Organic Nutmeg.
Organic Cloves.
Organic Ginger.
Organic Cayenne Peppers.
Xanthan Gum
All these ingredients are plant based. If you need this sauce, you can check it here.
It's worth noting that some Worcestershire sauce brands may change the ingredient list.
So always double check the ingredient list on the actual product.
Vegan Worcestershire Sauce Substitutes:
When replacing anchovies or fish sauce in any recipe, the key flavor one must look for is umami, the deep savory taste that is found in fishy, fermented foods like Worcestershire sauce.
Here are some ingredients that make a great substitute of the non vegan ingredients in Worcestershire sauce:
Soy sauce.
Coconut aminos .
Miso paste.
Capers.
Is Worcestershire Sauce Vegetarian?
A vegetarian diet is a diet free of meat, fish, and fowl flesh, and most Worcestershire Sauces contain anchovies and/ or fish, so they aren't suitable for both vegans and vegetarians.
Is Lea And Perrins Worcestershire Sauce Vegetarian?
The Lea & Perrins Worcestershire Sauce is never vegetarian, because it contains fish, and fish are animals.
Vegans and vegetarians do not consume animal products or products derived from animals.
Is Lea & Perrins vegan?
No, Lea & Perrins isn't vegan because it contains anchovies.
---
Related Posts:
---
Is Heinz Worcestershire Sauce Vegan?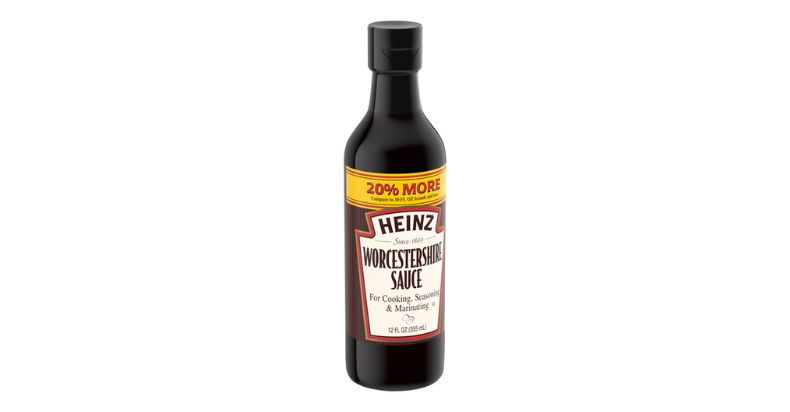 Heinz Worcestershire Sauce is not vegan friendly because it contains anchovies (a type of fish) amongst its ingredients. At least that is the case with the original and most famous Worcestershire Sauce made by Lea & Perrins (who are now owned by food conglomerate Kraft Heinz).
Is Kroger Worcestershire Sauce Vegan?
Kroger's Worcestershire sauce does not include any non-vegan ingredients, such as anchovies.
Which makes it vegan and safe for people on a vegan diet.
Is Annie's Worcestershire Sauce Vegan?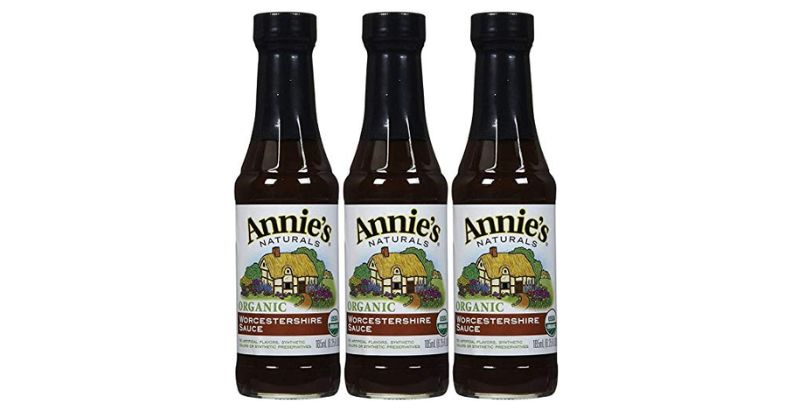 Annie's Worcestershire Sauce ingredients are:
Water.
Apple cider vinegar.
Molasses.
Soy sauce (water, soy bean, salt, wheat, alcohol).
Canesugar.
Tamarind.
Sea salt.
Xanthan gum.
Garlic.
Onion.
Clove.
Chili pepper.
Organic ingredients.
Contains soy and wheat ingredients.
Annie's Worcestershire Sauce is considered vegan friendly, because it only contains plant based ingredients.
Please be aware that products are regularly improved, the product information, ingredients, nutritional guides and dietary or allergy advice may occasionally change.
As a result, we recommend that you always read the label carefully before using or consuming any products.
Is Worcester Sauce Gluten-Free?
Worcester sauce is gluten-free, because it includes ingredients that are all naturally gluten-free.
NOTE: This is not always marketed, publicized, or stated clearly on product packaging.
It is generally advised to always read the label carefully before using or consuming any products.
SUMMARY:
Worcestershire sauce isn't vegan-friendly. It contains non-vegan friendly ingredients.