What is Goya Sazon made of? Is Goya Sazon Vegan? Let's find out.
Goya Sazon( with Cilantro (coriander) and Achiote ) is the secret ingredient to many Cuban dishes.
The achiote releases a rich yellow colour, perfect for yellow rice and the cilantro (coriander) lifts the complexity of flavours traditional to Cuban Cooking.
Latin cooks refer to it as the foolproof way to create great-tasting dishes.
Goya Sazon is made by Goya Foods, Inc. (an American producer of a brand of foods sold in the United States and many Spanish-speaking countries).[1]
Goya Sazon is made with these ingredients:
SALT, DEHYDRATED GARLIC
CUMIN, YELLOW 5
TRI- CALCIUM PHOSPHATE (ANTI-CAKING AGENT)
CORIANDER, ANNATTO (COLOR), RED 40.
Is it vegan? Is Goya Sazon vegan? Yes. Goya Sazon is vegan friendly. It is made with plant based ingredients.
The only questionable ingredient is RED 40.( Despite common misconceptions, Red 40 is vegan because the ingredient is not animal-derived).
Goya Sazon is also vegetarian, dairy and gluten free.
Is Sazon Goya Con Azafran Vegan?
Sazon Goya con azafran comes in a variety of flavors including Saffron, Garlic, Cumin and Annatto.
It is made with these ingredients:
Monosodium Glutamate.
Salt, Dehydrated Garlic.
Cumin, Yellow 5.
Tricalcium Phosphate (Anti-Caking Agent).
Annato (Color), Mexican Saffron.
Turmeric (Color), Red 40.
Based on the ingredients we listed above, Sazon Goya Con Azafran is vegan friendly.
It is free from animal derived ingredients.
Sazon Goya Con Azafran is also vegetarian.
---
Related Posts:
---
Is Goya Adobo Vegan?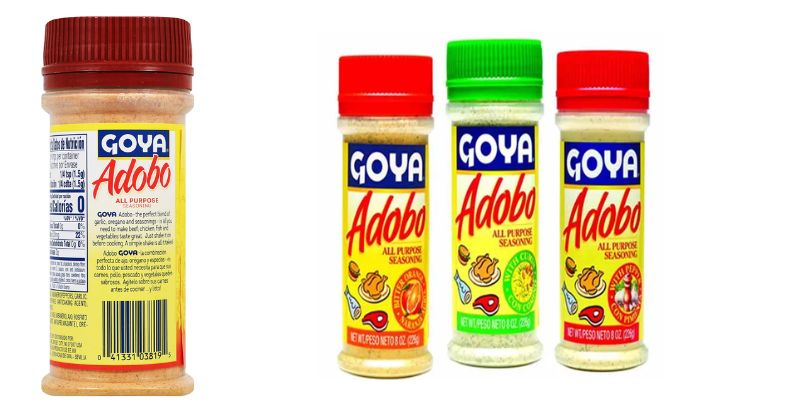 What is Goya Adobo made of? Well, the ingredients inside Goya Adobo All Purpose Seasoning are :
 SALT.
GARLIC.
TRICALCIUM PHOSPHATE (ANTICAKING AGENT).
BLACK PEPPER.
OREGANO.
TURMERIC.
All these ingredients are plant based, which means that Goya Adobo All Purpose Seasoning is vegan friendly.
Is Goya Sofrito Vegan?
Goya Sofrito is a pre-made blend of spices and vegetables that is commonly used as a base for Latin American and Spanish dishes.
It is typically made with a combination of diced tomatoes, onions, peppers, and cilantro.
The ingredients inside Goya Sofrito are:
Water, tomato paste, creen peppers, soybean oil, modified food starch, dehydrated onions, textured vegetable protein (soy flour, caramel color), salt, coriander, sweet peppers, onion powder, olive oil, monosodium glutamate, natural flavoring, paprika, citric acid, garlic powder, oregano and black pepper.
All these ingredients are plant based. Which means that Goya Sofrito is vegan friendly.