Trying to figure out if Chobani Greek yogurt is halal and vegetarian can sometimes be confusing.
Chobani Greek yogurt has many ingredients and some of them may not be vegetarian or halal.
To make sure you are only eating halal and halal vegan yogurt, I've looked into the ingredients and production processes of Chobani Greek yogurt.
And here's what I found:
Chobani Greek yogurt is vegetarian and halal. But is not suitable for those following a vegan diet.
Keep reading to find out why Chobani Greek yogurt is considered halal and vegetarian.
Let's start with the ingredients list.
Chobani Greek yogurt ingredients:
According to their website, Chobani greek yogurt is made with these ingredients:
Now, let's go back to our questions.
Is Chobani Greek Yogurt Vegan?
NO. Chobani Greek Yogurt is not vegan, because It is made with milk from cows.
But, here's the good news: There's a vegan greek yogurt available to Buy Right Now.
Silk has the best vegan Greek yogurt yet. And it is made with plant based mlik.
Check it here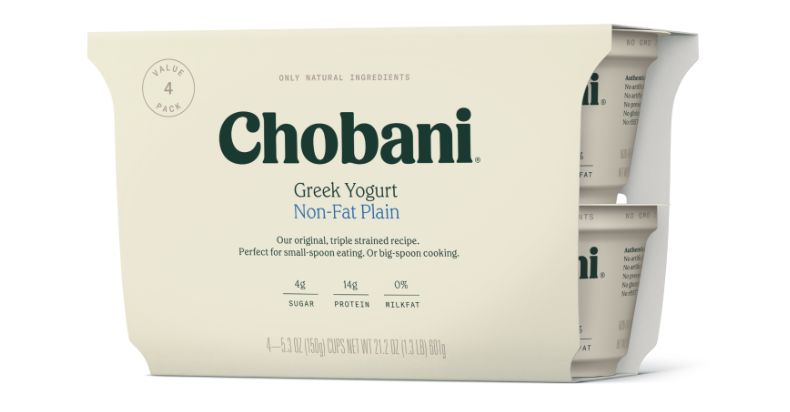 Is Chobani Yogurt Vegetarian?
Absolutely! Chobani Greek Yogurt is suitable for vegetarians.
Chobani Greek Yogurt is free from gelatine and other animal-based thickeners, which makes Chobani Greek Yogurt complies with the Vegetarian Diet.
---
Related Posts:
---
Is Chobani Yogurt Halal?
Yes. Chobani Greek yogurt is halal.
The Chobani Greek Yogurt ingredients list does not contain gelatin or any others ingredient forbidden by the Islamic religion.
But, it worths noting that Chobani Greek Yogurt is not Halal certified.
Is Greek Yogurt Halal?
Whether Greek yogurt is halal depends on several factors:
Source of the Enzymes: Traditional yogurt is made by fermenting milk with bacterial cultures. However, some yogurts might be thickened or have their flavors enhanced using enzymes or gelatin. If these enzymes or gelatin are derived from non-halal sources (like non-halal slaughtered animals), then the yogurt would not be considered halal.
Type of Animal and Slaughter Method: The milk used to make the yogurt should come from an animal that is permissible to eat in Islam (e.g., cow, goat). Additionally, if any additional ingredients derived from animals are added to the yogurt, those animals should be slaughtered according to Islamic law for the product to be considered halal.
Cross-contamination: Even if the ingredients in the yogurt are halal, there's a potential concern about cross-contamination if the yogurt is produced in facilities that also process non-halal foods.
Certification: Many products, including Greek yogurt, might have a halal certification from a recognized halal certification body. This certification provides assurance to consumers that the product meets halal standards.
If you're looking to consume Greek yogurt and adhere to a halal diet, it's advisable to look for Greek yogurt products that have a halal certification label on the packaging.
Alternatively, you can contact the manufacturer directly to inquire about the halal status of their product.
Is Chobani Greek Yogurt Gluten Free?
Yes. Chobani Greek Yogurt is gluten free.
In fact, most Chobani yogurt products are gluten-free, with the exception of a few varieties of products with sidecar mix-ins.
Chobani Greek Yogurt nutrition:
Here's the nutrition fact of Chobani Greek Yogurt for a serving size4-pack (4 x 5.3 oz):
Servings per container4
| Amount/Serving | %DV* |
| --- | --- |
| Calories 80 | |
| | |
| --- | --- |
| Total Fat 0g | 0% |
| Saturated Fat 0g | 0% |
| Trans Fat 0g | – |
| Cholesterol 10mg | 3% |
| Sodium 55mg | 2% |
| Total Carbs 6g | 2% |
| Fiber 0g | 0% |
| Total Sugars 4g | – |
| Includes 0g Added Sugars | 0% |
| Protein 14g | 28% |
| | |
| --- | --- |
| Vitamin D | 0% |
| Calcium | 15% |
| Iron | 0% |
| Potassium | 4% |
*The % Daily Value (DV) tells you how much a nutrient in a serving of food contributes to a daily diet. 2,000 calories a day is used for general nutrition advice.
In Summary:
Chobani Greek Yogurt is made with milk as a main ingredient, which makes it unsuitable for vegans.
Disclaimer:
Please note that while we take care to make sure the product information displayed on our website is correct, product recipes are regularly changed.
This may affect nutrition and allergen information therefore you should always check product labels and not rely solely on the information presented here.