Are you diagnosed with Celiac disease or do you get sick after eating gluten and wondering if Arby's Curly Fries are gluten free, then you're in the right place.
In this article, we're going to uncover the Arby's Curly Fries ingredients and get you the answer you need to determine if these fries are gluten free and vegan.
Without further ado, let's start with the ingredient list.
Arby's Curly Fries Ingredients:
According to Arbys menu items and ingredients (December 2022), Arby's Curly Fries are made with these ingredients:
Vegetable Oil (contains one or more of the
following:

canola oil.
soybean oil.
cottonseed oil.
sunflower oil.
Corn Oil.
palm oil).

Enriched Bleached Flour (wheat flour, niacin, reduced
iron, thiamine mononitrate, riboflavin, folic acid).
Salt, Corn Starch.
Onion Powder, Yellow Corn Meal.
Spices, Garlic Powder.
Leavening (sodium acid pyrophosphate, sodium bicarbonate).
Modified Corn Starch, Dextrose.
Spice and Coloring, Natural Flavor.
Dried Torula
Yeast, Xanthan Gum.
Sodium Acid Pyrophosphate (to preserve color).
Cooked in Vegetable Oil.
CONTAINS: WHEAT.
Now that we know exactly what ingredients are in Arby's Curly Fries, let's go back to our main question "are arby's curly fries gluten free?".
Are Arby's Curly Fries Gluten Free?
Are they gluten free? Unfortunately, NO. Arby's Curly Fries are not gluten free.
A gluten-free diet involves excluding foods that contain the protein gluten, such as wheat and rye products.
Arby's Curly Fries contain wheat and therefore, they are not suitable for people with celiac disease or with other disorders, like non-celiac gluten sensitivity (NCGS) and wheat allergy.
Are Arby's Curly Fries Vegan?
Based on the ingredient list above, Arby's Curly Fries are considered vegan friendly.
They are are made with vegan ingredients, but what the company states on their website may shock you.
May be cooked in the same oil as menu items that contain Soy, Egg, Milk, and Fish.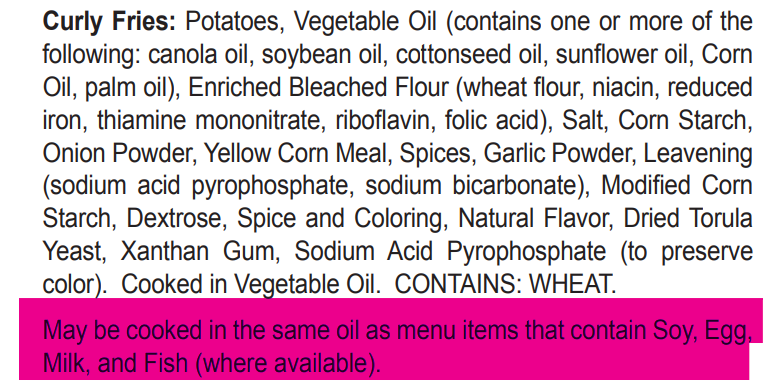 You can check the full document about Arbys's ingredients & allergens here.
Therefore, I can't comment on whether Arby's Curly Fries are vegan or not.
---
RECENTS ARTICLES :
---
Conclusion:
Arby's Curly Fries are not gluten free. They contain wheat and gluten is a protein found in wheat, barley, rye and other grains.